About Us
公司動態 >
Cinda International awarded the 10 years Plus "Caring Company Logo" for a consecutive year
12-04-2017 03:00 HKT
Cinda International has been awarded the 10 years Plus "Caring Company Logo" from Hong Kong Council of Social Service for a consecutive year. The award recognised the Company's continuous effort in caring to the community, their employees and the environment.
This year is the 15th anniversary of Caring Company Scheme since its launch in 2002 and the numbers of organizations/companies awarded the logo has been increased from 259 (for the year 2002/03) to 3,478 (for the year 2016/17) among which 831 organization/companies have supported the corporate social responsibility for more than 10 years and of which 115 organization/companies have reached 15 years. This reflects the public tends to care for the community, employees and the environment more precisely.
Cinda International persevered in active participation in various social and charitable activities and practising corporate social responsibility. Cinda International will continue to partake in such activities, and strike to deliver care for their employees, the environment and the community and to build a harmonious society with others.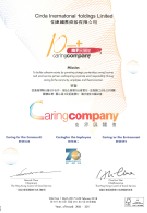 Certificate of "Caring Company Logo".